Accelerate efficiency and reduce costs with top automation solutions & proprietary technology tools.
By enabling automation, digitization, and a process-innovation led model, COMPUTECH ACE helps your F & A core functions of purchase to pay, order to cash, and record to deliver improved efficiency, compliance, and cost savings. We collaborate to manage your most complex F & A processes and help build integrated, agile, scalable, and resilient finance.
Our comprehensive service addresses emerging challenges associated with F & A functions like ever-changing regulatory needs, globalization of accounting, skill shortage, and scaling the business. It facilitates consolidation, standardization, and automation of your key business processes.
Better cash flow management, reduced reconciliation efforts and backlogs, improved receivables, accurate reporting, and accelerated revenue cycles are a few of the many business benefits that we help our clients to achieve. We have extensive expertise in setting up and managing end-to-end financial and accounting functions. From strategic roadmaps to tactical needs to lower or free up the burden on your internal team and avoid the cost of direct hires, we keep in mind the long-term value.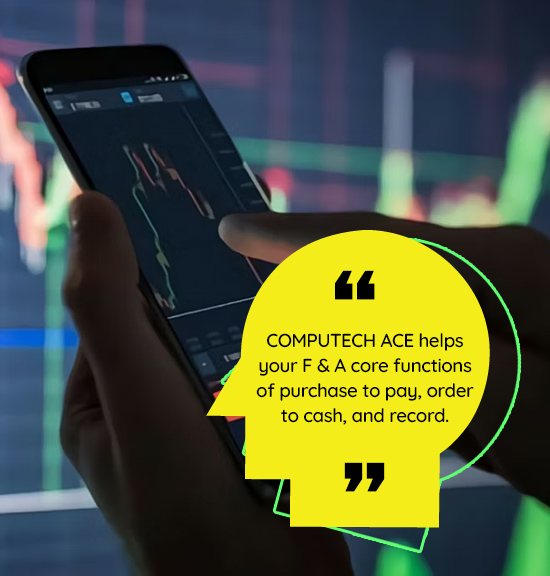 Service Offerings
Accounts Receivables
Improve collections performance and your bottom-line
To be an efficient enterprise, you would want your business to manage cash flow efficiently and minimize the burden of bad debts while your valuable workforce focuses on your core accounting activities.
COMPUTECH brings in years of expertise in providing accounts receivable services that virtually wipe out the need to maintain dedicated back-office collection executives for you. The visible outcome most of our clients report to us is a considerable improvement in collections performance and an overall hike in their bottom line.
Accounts Payable
Lower the cost of operations and improve vendor satisfaction.
COMPUTECH provides accounts payable outsourcing services to streamline the AP process that includes invoice scanning, indexing, validation, and approval. The service takes into consideration all upstream and downstream processes and systems. Our service is flexible, cost-efficient, and quick to implement.
Accounting & Taxation
Our accounting experts, with their tons of experience have all the tools and techniques to take care of your books for you in a cost-effective and qualitative manner in a model that suits you well.
COMPUTECH tax team provides timely and accurate tax reporting for both the funds and the investors in hedge funds, private equity and real estate funds, and fund of funds. Our experienced tax professionals can prepare all US federal and state forms, and the service is customizable to your needs even to a fund level.