Improve your data analytics for marketing and optimize your delivery.
Providing a clear direction and competitive advantage for your digital technical resources.
As a Detroit headquartered business, Computech takes pride in our focus on supporting the manufacturing industry. Technology is more important to manufacturers today than ever before. It has changed how products are created, built, and delivered to a savvy marketplace. The reliance on new cloud technologies, mobility, cyber security, data mining, automation, and robotics, are key to the future success of the manufacturing sector. By partnering with Computech, we help you focus on customizing your applications to take advantage of the technical gains in these areas.
Our goal is to help manufacturers take full advantage of technology and mobility, stay competitive in today's marketplace, and deliver the best value to their customers in less time than ever before.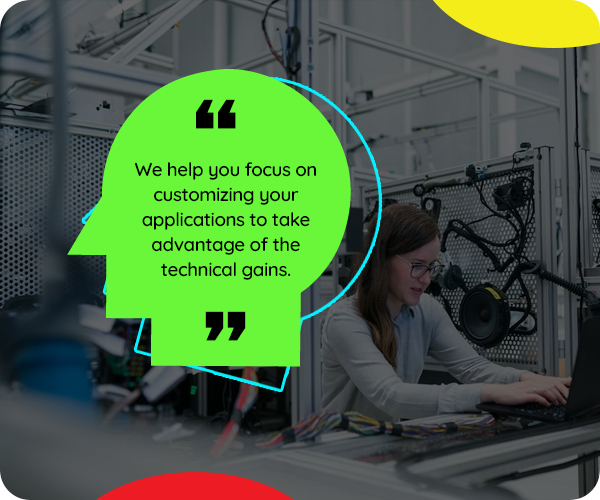 Service offerings
Cloud Infrastructure
Tap into the power of the cloud in manufacturing by building faster and more innovative products.
Cloud infrastructure-driven business model has caused disruption in many industries including manufacturing. Not to be left behind the competitors, manufacturers are now leveraging Cloud Infrastructure to meet customer demands with faster production and delivery than ever.
COMPUTECH helps its manufacturing customers adopt cloud infrastructure by migrating homegrown applications as well as third party off-the-shelf applications to cloud. Our service has helped many customers launch or upgrade their applications on cloud infrastructure and be future-ready.
SAAS ERP
Redefine your business models and enable peak performance, high availability, and robust security.
SaaS is not just a disruptive technology or service but a fundamental shift in creating a better business model. As a result, the ERP market's appetite for SaaS-based cloud solutions is on the rise. This is a boon to the companies which are competing at an unprecedented pace to stay ahead of their peers.
COMPUTECH offers SaaS based ERP services to manufacturing companies fulfilling their specific transformation needs. Our comprehensive approach has helped customers redefine their business models and reap the benefits of SaaS ERP.
Enterprise IoT
Enable Operational & Energy Efficiency, Industry 4.0, Maintainability, and Net Zero
Enterprises are embarking on a digitalization journey to integrate data across
All IT and OT (operational technology) systems use an IoT platform.
All types of assets (buildings, factories, mines, plants, and moving assets like trucks/ships/vehicles).
Across all global locations.
Across all functions (production, generation, processing, transport and supply chain, store, service, inventory, warehouse, distribution, delivery, support).
Across all types of devices, field networks, and subsystems (having legacy with limited data and capability).