Helping hospitality and leisure clients reshape their technology landscape.
Packaged products combined with consulting and integration services.
Today, Computech is helping hospitality and leisure clients reshape their technology landscape to deliver differentiated customer experiences while doing more with less, by addressing challenges in three key areas:
Business transformation
Accelerating innovation and
Efficient operations.
Vast experience in designing, implementing, and customizing applications for security trading, portfolio management, risk management, asset securitization, e-Finance and Financial operations.
Improve your edge in the market and improve your delivery time with our packaged products that can be combined with our consulting and integration services.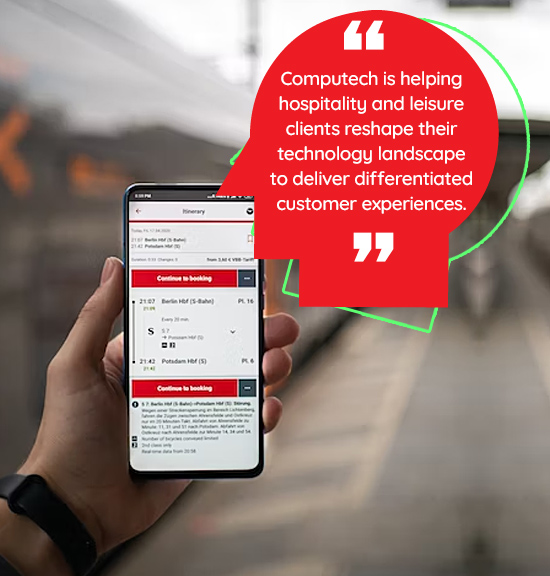 Our offerings
Fund Accounting
Accurate, Efficient, and Timely Fund Accounting and Reporting Services
COMPUTECH provides end-to-end Portfolio Management Services in a managed service model to Investment Management companies. We have the expertise in the operational requirements of a wide array of portfolios and investment vehicles.
Technology Services
A range of end-to-end customized technology solutions to help businesses of all sizes thrive in the digital age with a differentiated edge.
COMPUTECH Cloud practice helps customers with cloud application implementations, as well as integration and support services. COMPUTECH does an assessment study for customers to determine their readiness toward Oracle cloud applications.
Operations
Transform your back and middle office operations by streamlining and automating key business processes leveraging our proven domain expertise and enduring operating models & best practices.
COMPUTECH has extensive experience in helping clients by providing corporate finance support for over a decade. COMPUTECH also provides accounts payable outsourcing services, compliance services, tax reporting, Portfolio Analysis and Reporting (PAR) and a complete fund accounting solution to streamline multiple tasks.